NGK 6510 LTR7IX-11 Iridium IX Spark Plug, set of 4
NGK
NGK 6510 LTR7IX-11 Iridium IX Spark Plug, set of 4
NGK LTR7IX-11 (6510) - Iridium IX Spark Plug - Taper Cut Ground Electrode
Designed specifically for the performance enthusiast Iridium IX offers extreme ignitability, improved throttle response and superior anti fouling.
NGK is the brand leader in the UK spark plug market and are the world's biggest supplier to many major car manufacturers. Each and every one of their products are designed to meet the most rigorous standards and are the professionals' choice because of their quality and technical excellence. Their plugs can be found in use by teams in F1, WRC and MotoGP. Put simply, NGK genuine spark plugs are the workhorse at the heart of smooth-running engines around the world.
The NGK Iridium IX Spark Plugs utilise a 0.6mm laser welded fine iridium tip which ensures high durability and a consistently stable spark along with a tapered ground electrode which minimizes electrical quenching effect. The longer insulator nose prevents fouling, the corrugated ribs on the insulator prevent flashover and a triple gasket seal eliminates combustion gas leakage.

This particular plug is often used as a one step colder performance upgrade for Ford Ecoboost engines such as:
Focus ST MK3 2.0 litre ecoboost

Focus RS MK3

2.3 litre ecoboost

Fiesta ST MK7 1.6

litre ecoboost
We offer these plugs in standard 1.1mm plug gap, or pre gapped down to better suit some of the vehicles we personally recommend them for as a one step colder performance solution. Please choose your gap from the menu.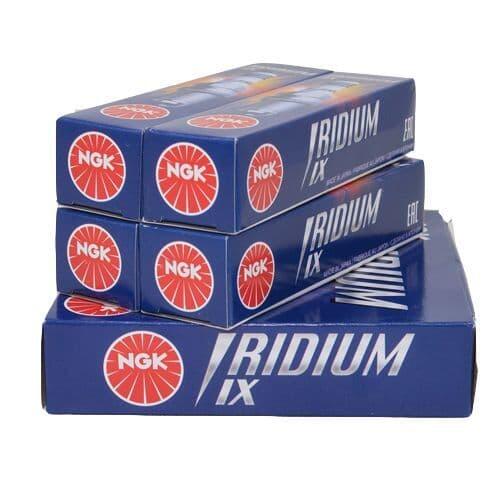 NGK 6510 LTR7IX-11 Iridium IX Spark Plug, set of 4
Recommend to a friend
Further details
Technical Info

Technical Information:

General:

Type: Resistor type
Thread Size: 14mm (9/16")
Hex Size: 16mm (5/8")
Reach: 17.5mm (11/16")
Gap: 1.1mm (1/16")
Thread Pitch: 1.25mm (1/16")
Insulation Projection: 1.1mm (1/16")

Centre Electrode:

Type: Fine Wire
Material: Iridium
Size: 0.6mm (0.02")
Projection: Projected

Ground Electrode:

Type: Taper Cut
Material: Nickel
Electrode Count: 1

Notes: Extra long reach thread. 26.5mm gasket type or 25mm taper seat type.

Benefits

Benefits:

Fine Iridium tip ensures high durability and a consistently stable spark
Iridium alloy has extremely high melting point, perfect for todays high-tech, high-performance engines
Trivalent Metal Plating - superior anti-corrosion and anti-seizing properties
Outstanding acceleration, high fuel efficiency and durability
Ultimate design, technology and performance
DELIVERY & RETURNS