Steeda Focus Performance springs
Steeda
Steeda Focus Performance springs
Steeda Focus Lowering Springs for the 2012-2013 Focus are CNC wound in the United States with high tensile strength chrome-silicon spring wire. They are then heat treated, shot peened, re-heat treated, and finally powder-coated to ensure no spring sag during over the course of their service life, while also providing excellent corrosion resistance.
Put real handling into your Focus with Steeda Focus Lowering Springs for 2012-2013 Focus. These precision-engineered springs lower the Focus 1" in the front and. 0.8" in the rear to lower the center of gravity, and improve overall vehicle appearance. Greatly improves the feel of the uninspiring factory suspension spring rates by improving traction , reducing built in understeer, and improving cornering ability.
One of the important aspects of Steeda Focus Lowering Springs for 2012-2013 Focus is the front to rear balance. Like most front wheel drive cars the Focus is prone to severe understeer when pushed to the limit. Steeda springs increase the rear spring rate proportionally more than they increase the front spring rate. This reduces the understeer considerably, while still being conservative enough to produce mild understeer at the limit so that the car is easy to drive.
Product Features
Reduced body roll
Less nose dive
Increase traction
Reduce understeer considerably
Overall improved handling
Comes with a LIFETIME warranty
NOTE: Does NOT Fit Focus ST or RS
Time of Install
4 Hours
Level of Difficulty
Tech Recommended
Tools Needed
Shop Tools
Steeda part: 555-8301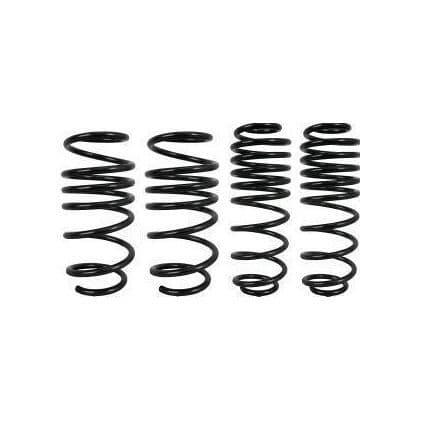 Steeda Focus Performance springs
Recommend to a friend
DELIVERY & RETURNS